Back to News Listing
TOUR 6 OF QATAR EQUESTRIAN TOUR – LONGINES HATHAB SUPPORTED BY THE SOCIAL & SPORT CONTRIBUTION FUND KICKS OFF WITH SPECTACULAR SHOWJUMPING
Publication Date:

14/12/20 08:12 AM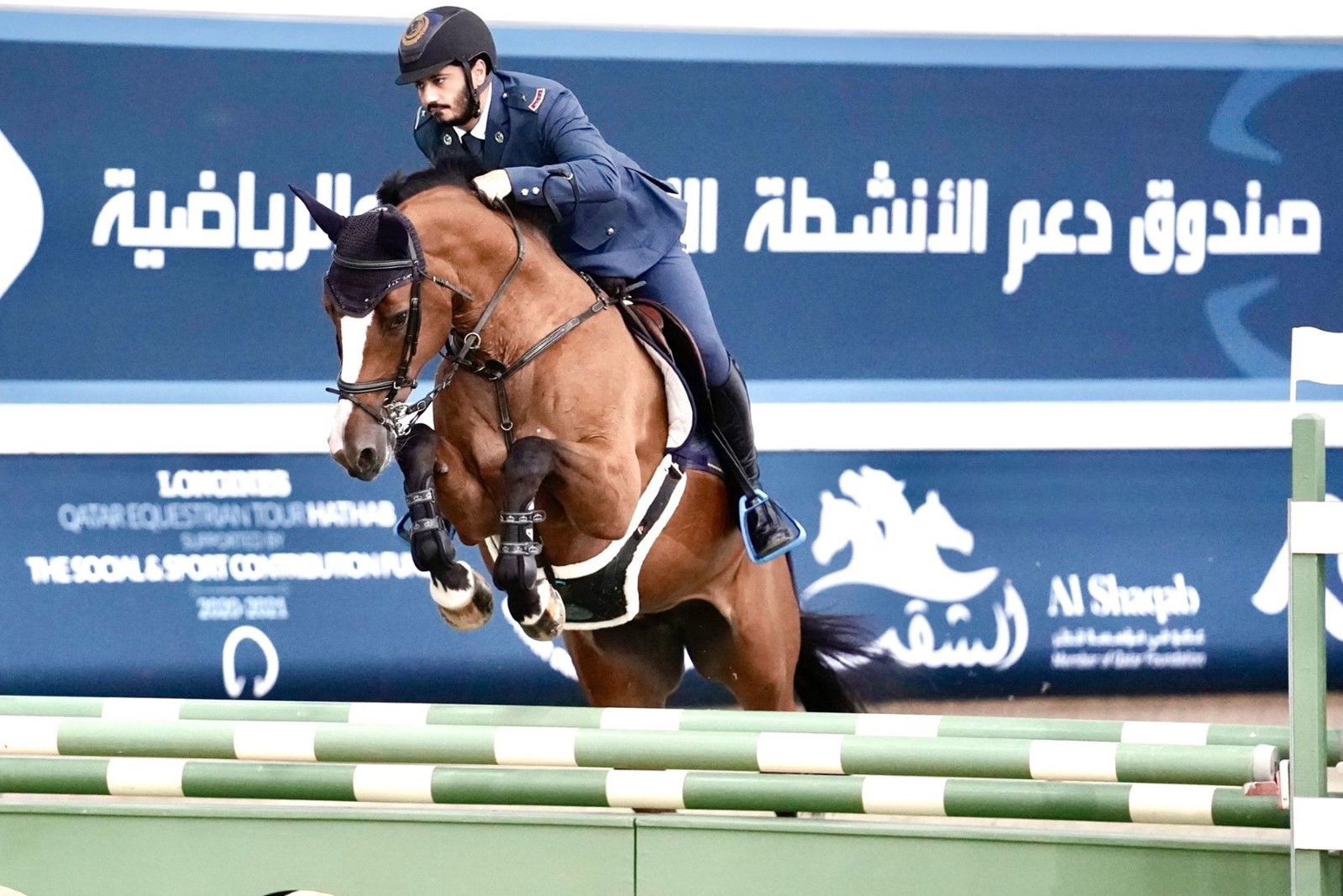 Day 1
Day one saw Saeed Nasser Al Qadi set the pace, emerging victorious in the first category of the competition, the 110 cm Small Tour. Al Qadi rode nine-year old mare Best of Des Foret to a thrilling jump-off victory in only 20.01 seconds. The battle for second place was hard fought, with Hamad Nasser Al Qadi clinching the runner-up spot on Gibria-B, in 20.20 seconds while Khalid Mohammed Al Emadi came in third on Blue Boy, in a time of 20.22 seconds.
The Small Tour winners were awarded by Omar Al Mannai, Vice Chairman, Organizing Committee, Longines Hathab, and Abdullah Mohammed Al Marri, Manager, Future Riders Riding School-QEF.
In the Medium Tour Teams category, the combined equestrian skills of Saeed Nasser Al Qadi, Ghanim Nasser Al Qadi, and Hamad Nasser Al Qadi saw them dominate their rivals, as they won first place for Business Trading Company. Lusail and ExxonMobil finished second and third respectively.
Individual Medium Tour category action saw Salman Mohammed Al Emadi claim victory, riding Zorro Z, a 19-year-old gelding, to first place in 34.07 seconds. Rashid Towaim Al Marri clocked an impressive 34.98 seconds on Lamm Addiction Z to take second place, while Saeed Nasser Al Qadi guided Electra B to third, in 36.26 seconds.
Omar Al Mannai, Vice Chairman, Organizing Committee, Longines Hathab awarded the Medium Tour Teams and Individual category winners.
Day 2
Day two of the competition started with the Open Class category, and a second Tour 6 appearance by nine-year-old mare Lamm Addiction Z, who was expertly ridden by Rashid Towaim Al Marri to first place in 44.98 seconds. It was a narrow victory, as Mohammed Sultan Al Suwaidi, astride Guilder's Empire Of The Sun, clinched second spot with a respectable time of 45.14 seconds, comfortably pushing Saoud Mohammed Al Kuwari into third place. Al Kuwari finished in 48.75 seconds, on Goedele VDV Z.
The Open Class podium finishers were awarded by Amer Mohamed Al Hamidi, President, Qatar Endurance Committee.
The showpiece event of the day, the Big Tour, saw the riders battle it out for top honours in a thrilling display of showjumping. Mohammed Saeed Haidan ultimately prevailed, emerging victorious on Miss Chili. The 12-year-old grey mare, carried Haidan to a faultless victory in an impressive winning time of 31.89 seconds. Nasser Al Ghazali, did well to finish second on Quel Homme, in 32.44 seconds, while Salmeen Sultan Al Suwaidi took the final place on the winner's podium, riding Aslan 69 to third place in 33.33 seconds.
Omar Al Mannai, Vice Chairman, Organizing Committee, Longines Hathab awarded the Big Tour winners.
For the health and safety of equestrian fans, and in line with national COVID-19 precautionary measures, spectators were not allowed into the arena. However, fans were able to follow the thrilling action live on Al Kass TV.
Qatar Equestrian Tour – Longines Hathab Supported By The Social & Sport Contribution Fund is organized and hosted jointly by Qatar Equestrian Federation and Al Shaqab, member of Qatar Foundation. It comprises individual and team competitions over 12 legs, from October 2020 to March 2021.
Longines, ExxonMobil, and Salam International are the main partners of the Qatar Equestrian Tour, which is supported by The Social & Sport Contribution Fund (Daam).
Back to News Listing