Back to News Listing
TOUR 5 OF QATAR EQUESTRIAN TOUR – LONGINES HATHAB SUPPORTED BY THE SOCIAL & SPORT CONTRIBUTION FUND PRODUCES SPECTACULAR SHOWJUMPING ACTION
Publication Date:

14/12/20 08:09 AM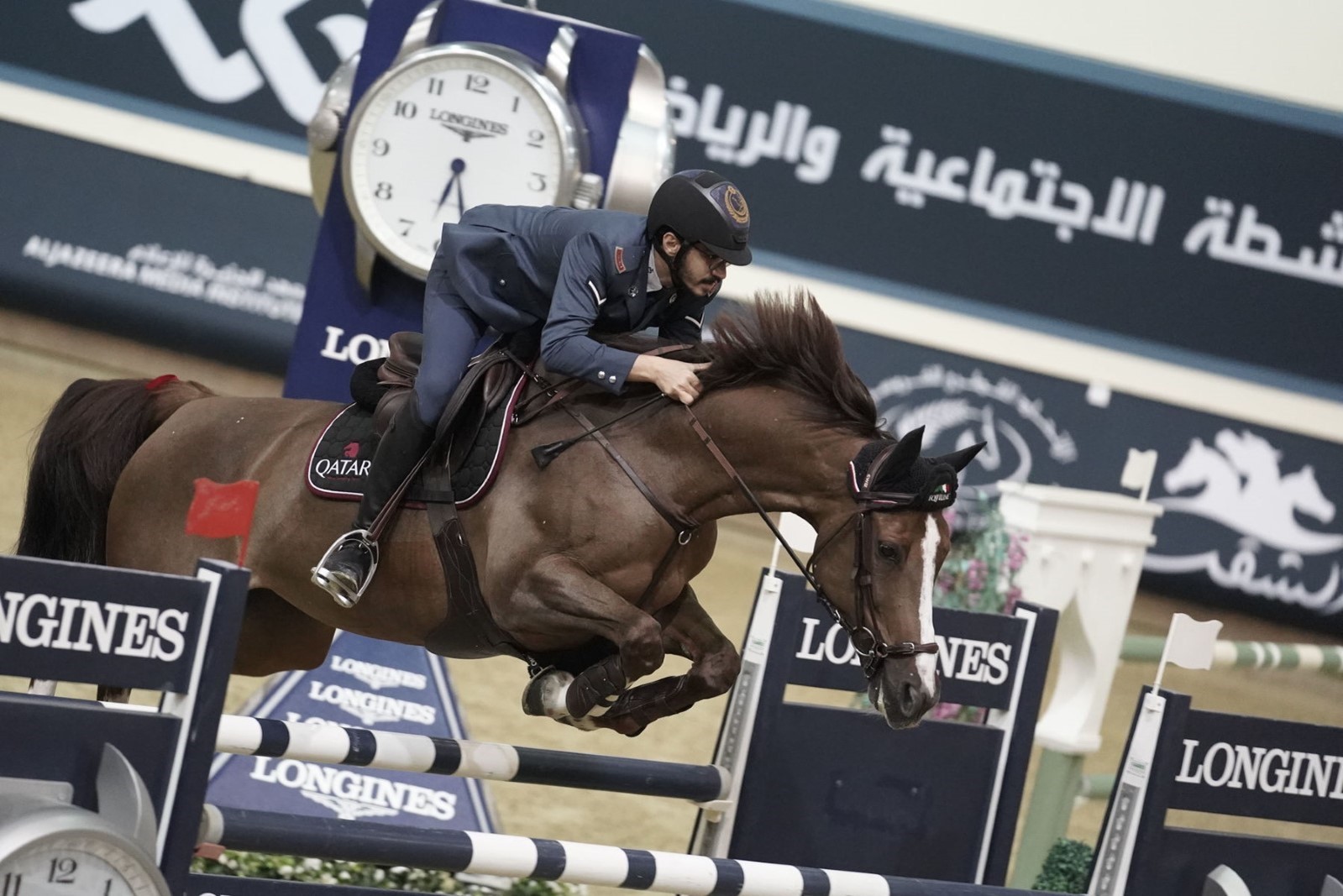 Day 1
The event opened with the Small Tour category, which saw Khalifa Abdulla Al Khaldi masterfully ride 17-year-old mare Dusty to first place, after a winning jump off time of 25.06 seconds. Hamad Nasser Al Qadi, with a respectable time of 25.46 seconds, achieved second place on Gibria-B, closely followed by Saeed Nasser Al Qadi on Best Of Des Forets, who took third in 26.06 seconds.
Omar Al Mannai Vice Chairman, Organizing Committee, Longines Hathab, presented the awards to the Small Tour winners.
The Medium Tour category saw Jaber Rashid Al Amiri in magnificent form as he achieved a winning time of 45.80 seconds on Canavaro De Muze (E.T). Second place went to Ghanim Nasser Al Qadi, who clocked 48.84 seconds on Jazz De Semilly KZ (Dupli), while Faleh Suwead Al Ajami finished third on Ambre De Beaufor in a time of 49.66 seconds.
In Medium Tour Teams action, ExxonMobil claimed top spot, with QAF in second, and Limited Edition Cars in third place.
Day 2
The second day of the competition saw the action open with the Future Riders category. Hadi Mansour Al Shahwani clinched first place on Kashmir in the 80cm class, with a winning time of 18.74 seconds. In what was a tight battle for top honours, Jassim Adel Al Saegh had to settle for second spot, after recording a time of 18.90 seconds on Joly's Arno. Mohammed Faisal Al Marri ended third on Ilse, in 21.79 seconds.
The Future Riders 90cm class saw Saoud Abdulla Al Kubaisi deliver an excellent performance on Selest, emerging victorious with a winning time of 19.70 seconds. Fahad Abdelkarim Abed did well to finish second on Wadi Rum DDH in a time of 19.92 seconds, while third place went to Kian Monti, who achieved a respectable 20.12 seconds riding CJ Baba Van De Roshoeve.
Omar Al Mannai. Vice Chairman, Organizing Committee, Longines Hathab, and Ahmed Younes Bedoui, President of the Ground Jury (Showjumping), Longines Hathab, awarded the Future Riders winners.
The excitement continued in the Open Class competition, which saw a faultless performance earn Faris Saad Al Qahtani first place on Verenince 2, in 55.46 seconds. Salmeen Sultan Al Suwaidi Guilder finished second astride Empire Of The Sun in a time of 64.40 seconds, while Nasser Al Ghazali rounded out the podium places, riding What A Pleasure to third in 67.01 seconds.
Abdullah Mohammed Al Marri, Manager, Future Riders Riding School-QEF, awarded the Open Class winners.
Tour 5 ended on a high note with the showpiece event of Day 2 – the Big Tour category. Hamad Nasser Al Qadi didn't disappoint, drawing on all his equestrian skills and experience to claim first place in 62.74 seconds on Gibria-B. His victory followed his second place in the Small Tour on the first day. Mohammed Saeed Haden finished second on Miss Chilli in 63.65 seconds, with Salmeen Sultan Al Suwaidi riding Aslan 69 to third place on the podium in a respectable 64.60 seconds.
Bader Al Darwish, Organizing Committee Member, Longines Hathab awarded the Big Tour winners.
For the health and safety of equestrian fans, and in line with national COVID-19 precautionary measures, spectators were not allowed into the arena. Fans were, however, able to follow the thrilling action live on Al Kass TV.
Qatar Equestrian Tour – Longines Hathab Supported By The Social & Sport Contribution Fund is organized and hosted jointly by Qatar Equestrian Federation and Al Shaqab, a member of Qatar Foundation. It comprises individual and team competitions over 12 legs, from October 2020 to March 2021.
Longines, ExxonMobil, and Salam International are the main partners of the Qatar Equestrian Tour, which is supported by The Social & Sport Contribution Fund (Daam).
Back to News Listing