Back to News Listing
Serene Cyrine Comes Out On Top In Exciting Big Tour Jump Off
Publication Date:

04/01/22 07:29 AM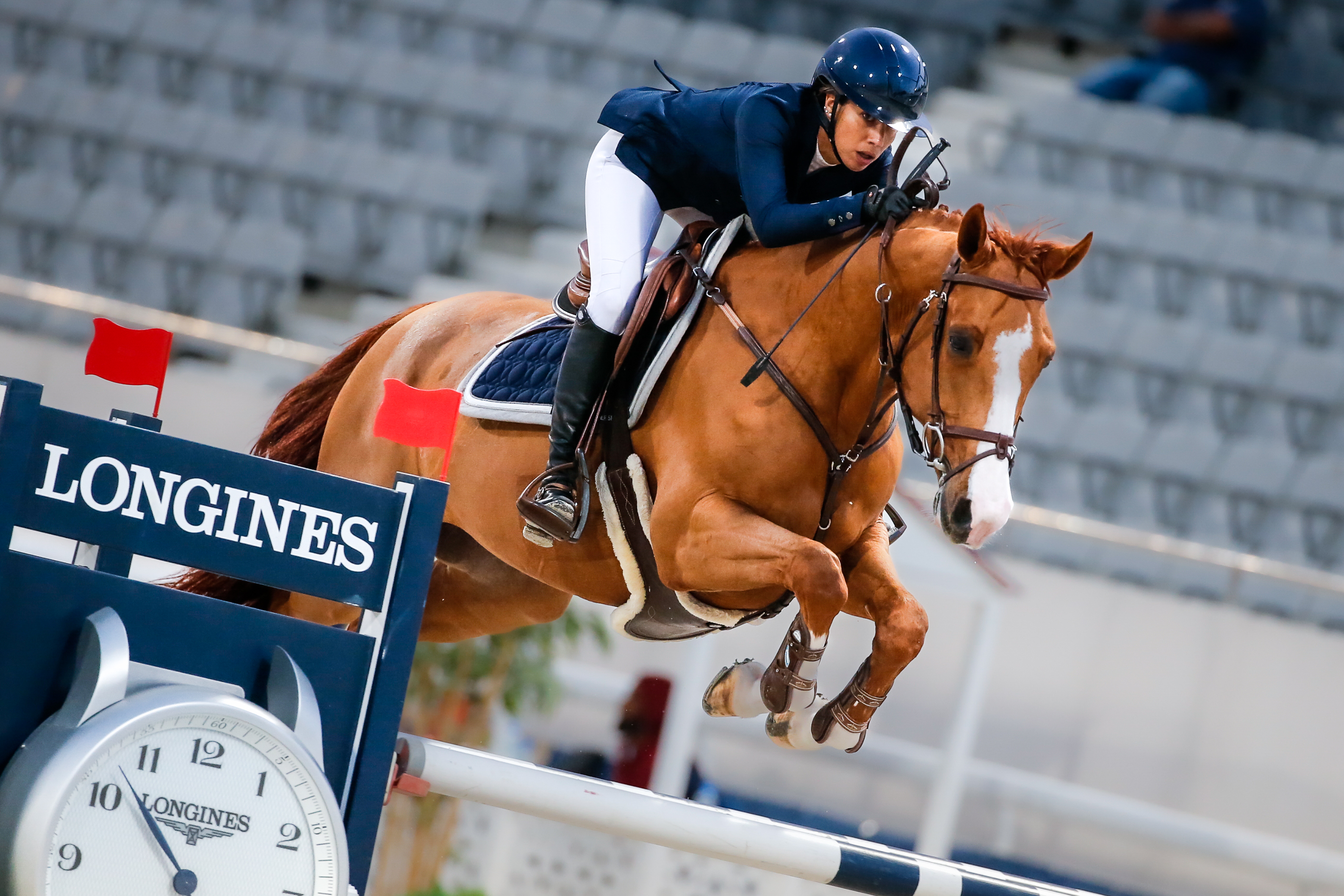 Maintaining her composure despite four faults in a three-way jump-off, a determined Cherif emerged victorious in the keenly contested 140cm class, which wrapped up the weekend's action at the Qatar Equestrian Federation (QEF) Outdoor Arena.
She rode to a winning time of 44.37sec on Brennus Villelongue, navigating a challenging course to claim her first Big Tour victory of Season 5.
Mubarak Yousuf Al Rumaihi took second place astride Casal Des Forets, coming home in 46.24secs, also with four faults. Faleh Suwead Al Ajami finished third on Ulano in 42.33 sec, but with 8 faults.
The competition had kicked off earlier in the day with the Open Class (120cm) event. Khalid Sanad Al Nuaimi, riding Green, took top honors in a faultless time of 65.62sec. He finished ahead of Saeed Hamad Jumaa on Jirocco Blue (70.00sec), and Ghanim Nasser Al Qadi on Dino BB Z (72.33sec).
In day one action, Hussain Saeed Haidan was in top form astride Viahipi D'Auzay in the Medium Tour Individual class, claiming the title with a time of 36.48sec. While failing to win the main prize, Rashid Towaim Al Marri could nevertheless be satisfied with a successful performance, taking both second and third places on the podium, on Navarrone (36.86sec) and Mira V/D Roshoeve (38.13sec), respectively.
Haidan enjoyed further success by helping Salam International win the Medium Tour Team category, alongside Khalid Sanad Al Nuaimi and Hamad Nasser Al Qadi. ExxonMobil finished second, while Al Kass took third.
The Small Tour produced a dramatic tussle for victory, with Mohammed Jabor Al Naimi edging out Saeed Nasser Al Qadi by the narrowest of margins to clinch first place. Al Naimi rode Naville Z to a winning time of 23.53sec, just ahead of Al Qadi, who finished second astride Best of Des Forets, in 23.58sec. Ghanim Nasser Al Qadi ended third on Dino BB Z, in 27.71sec.
The annual Qatar Equestrian Tour, which will now take place over 14 legs of competition, having been increased from 12, is organized and hosted jointly by QEF and Al Shaqab.
Longines, ExxonMobil, and Salam International are the main partners of the Tour.
Back to News Listing