Back to News Listing
Sensational Tour 7 Showjumping Keeps Fans Entertained at QEF Outdoor Arena
Publication Date:

10/01/22 07:29 AM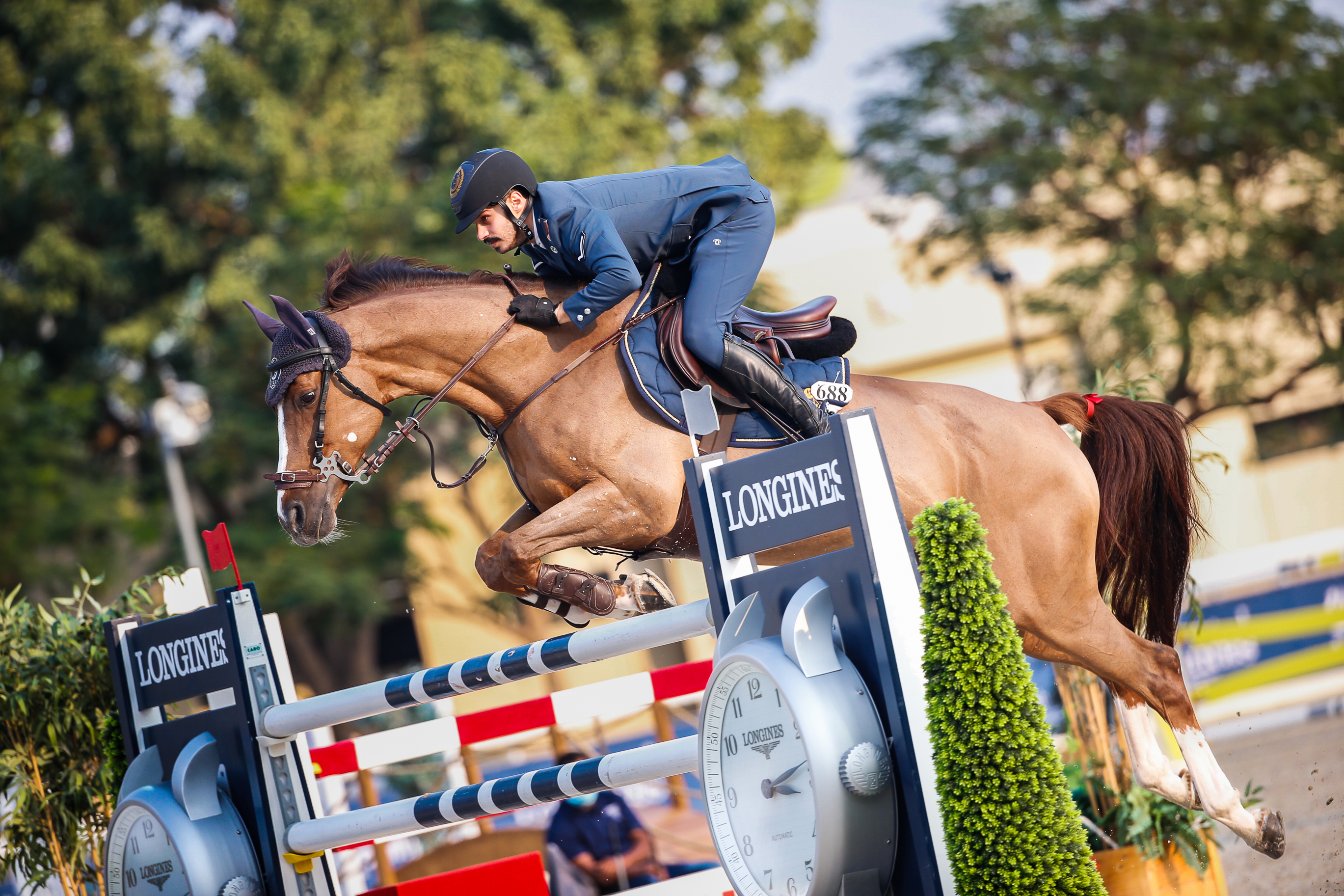 Day 1 kicked off with the Small Tour category. Ghanim Nasser Al Qadi, astride Dino BB Z, took the honors, coming in first with a clear round in exactly 52 sec. Mohammed Rashid Al Amri, on Cornett Des Forrets, took second, in a time of 53.16 sec, while Mohammed Nasser Al Qadi rode Vlacido to third spot, in 53.55 sec.
The first day of competition closed with the Medium Tour Individual and Team events.
In what was a tight finish for first and second place in the Individual event, Nasser Al Ghazali, riding What A Pleasure, claimed victory in 39.17 sec. It was an emotional triumph for Al Ghazali, after returning from a serious hip injury at the start of the season. Cyrine Cherif finished a close second, with a time of 39.59 sec on her trusty steed, Brennus Villelongue, while Abdullah Ali Al Ajeil took 44.17 sec to steer La Corona 10 to third.
The Medium Tour Team event saw ExxonMobil dominate, taking first position. Second place went to QAF, while Al Kass clinched third.
Day two opened with Future Riders (80cm) action. The category saw Hadi Mansour Al Shahwani win first place with the best time of 21.84 sec on Kashmir. Jaber Mansour Al Shahwani, on Whistler, took second, in 25.61 sec, while the final spot on the podium went to Barzan Azzam Saleh, astride Latino 291, in 26.21 sec.
The second event of the day, the Future Riders (90cm) category, saw Mariam Abdulkarim Abed steer Animo's Boy Van De Dennehoeve to victory in 27.01 sec. Following closely behind in second place was Hadi Nasser Al Shahwani, on Wadi Rum D D H, in 27.54 sec. Noor Ayman Abuafifa, astride Janny, came in at 28.56 sec to take third.
The action kicked up a level with the Open Class competition. Mohammed Jabor Al Naimi rode Bonhomme D'Orval to first place with a faultless jump off performance. Hamad Nasser Al-Qadi, on Gibria-B, also turned in a faultless performance in finishing second, while Ghanim Nasser Al Qadi, riding Dino BBZ, took third spot, with four faults.
In the main event of the day, the seasoned Big Tour riders kept the fans entertained. The category produced a great result for Abdullah Ali Al Ajeil, who skillfully rode La Corona 10 to a flawless victory, taking first place on the podium with a winning time of 45.51 sec. Hamad Nasser Al Qadi, on Andreas SPB Z, finished second, while Khalid Sanad Al Nuami on Goliat, ended third.
The annual Qatar Equestrian Tour, which will take place over 14 legs of competition in Season 5, having been increased from 12, is organized and hosted jointly by QEF and Al Shaqab.
Longines, ExxonMobil, and Salam International are the main partners of the Tour.
Back to News Listing