Back to News Listing
Riders Of The Hathab Fourth Tour Set The Bar High With Surprising Results
Publication Date:

09/10/22 07:29 AM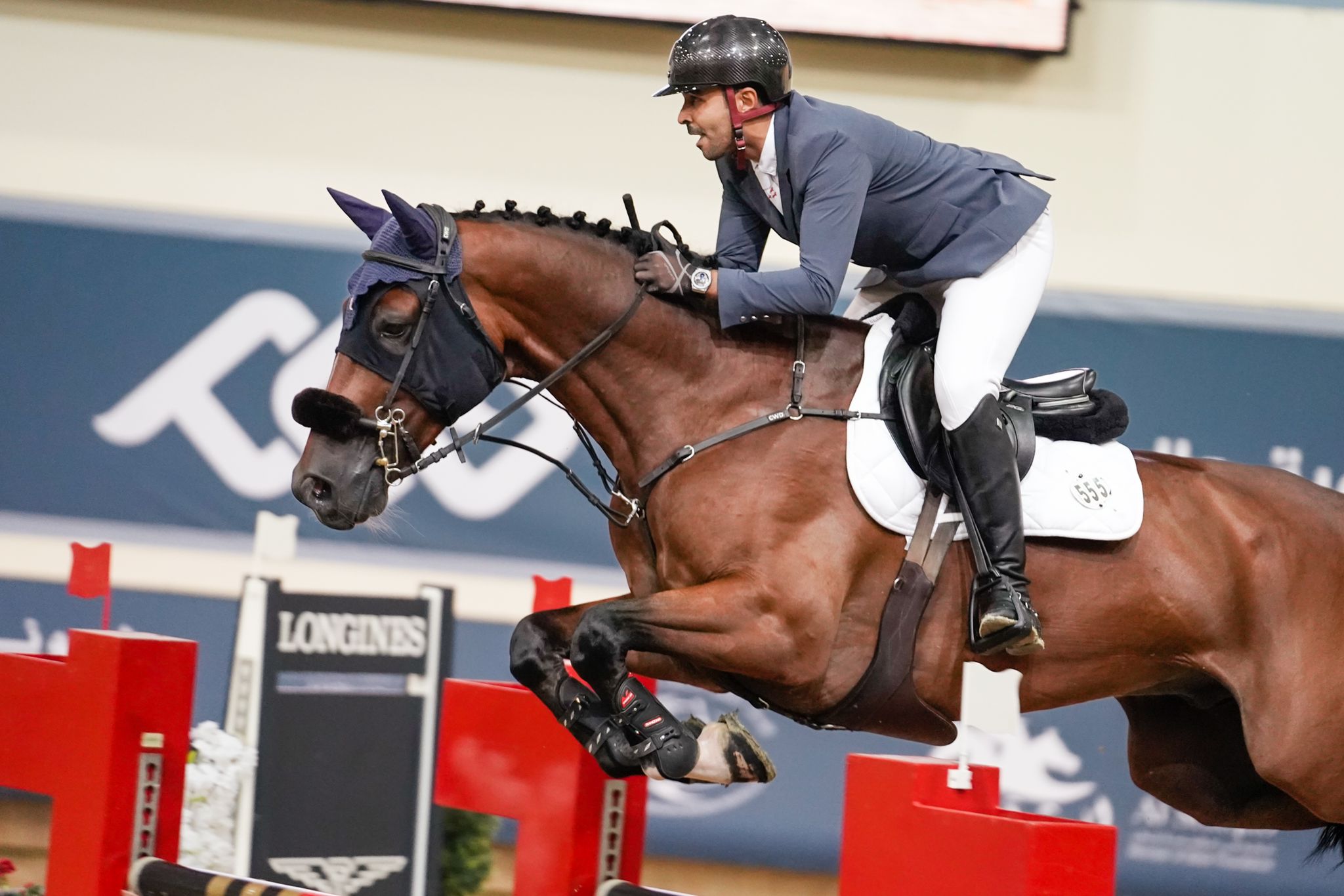 The fourth round of the Qatar Equestrian Tour – Longines Hathab Season 6 saw the dressage competitions at the Qatar Equestrian Federation (QEF) Indoor Arena.
The tournament saw siblings Saoud Ahmad Al Boinin and Maryam Ahmad Al Boinin in the top two spots in the Dressage Medium (Level 1) Test 2 event. Saoud rode dark brown mare Leslie Ann 2 to victory scoring 65.327 while Maryam ended up in the second spot riding bay gelding Silvan scoring 64.858 points. On chestnut mare Sandro Girl, Jassim scored 59.992.
Next, it was the Dressage Prelim (Level 2) Test 2 Event. Azade APA Triolet, won the 1st place on What A Pleasure scoring 68.794 points, while Khalid Sanad Al Nuaimi was the runner up on Medea VD Donkhoeve scoring 68.276. Jassim Mohammed Al Fahd Al Kuwari, took the third spot on Rythm scoring 68.018.
The riders were honored by Mr. Ali Yousef Al Rumaihi, Event Director of Qatar Equestrian Tour- Longines Hathab.
Day 2 saw the Small Tour and Junior Tour events. At the Small Tour, Mohamed Nasser al-Qadi rode Vlacido winning the first place. Saif Mohamed al-Kaabi took the runner-up spot on Calva Z, while Saeed Hamad Jumaa ended up at the third spot on Jirocco Blue.
The Junior Small Tour was won by young riders Mohammed Jamal Al Derbesti. Haya Khalid Al Hitmi came in second while Hend Abdulhadi Al Hajri followed them up to the podium ending in 3rd spot.
The champions were honored by Mr. Omar Al Mannai, Commercial Director of Al Shaqab and Vice-President of the Higher Organizing Committee of Qatar Equestrian Tour - Longines Hathab and Al Shaqab Equine Education Manager, Mr. Mohamad Jaber Al Khayarin.
On the third day, the stage was set for the Medium Tour, which saw an impressive performance in individual and team events. Rider Mohammed Saeed Haidan took the number one spot on MISS CHILI , while Rashid Towaim AL MARRI ended up in the 2nd spot on MIRA V/D ROSHOEVE. Salmeen Sultan AL SUWAIDI ended up third.
Team Al Shaqab, composed of Faris Saad Al Qahtani on Hidiene, Abdulrahman Eisa Al Bukhari on Irschi and Awad Alqahtani on Jethro Colado, won the medium tour. Al Qahtani scored a jump off time of 26.49 seconds without any errors, propelling Al Shaqab's victory. Ajwad finished in second place with 147.34 seconds, followed by ExxonMobil in 3rd place with 146.61 seconds.
During the last day of Hathab, Open Class and big tour competitions took place. Sheikh Khalifa Al Thani won the Big Tour with an error-free time of 68.96 seconds on nine-year-old Ierland VDL. Salmeen Sultan Al Suwaidi, riding 13-year-old Fiori LS, took second position with a time of 59.42. Third place went to Faleh Suwead Al Ajami with Ambre De Beaufour in 61.22.
The Open Class was led by Abdulaziz Ahmad Al Mohannadi and his eight-year-old Peppercrack K who claimed victory after completing the course in 51.59 seconds. While Riding 10-year-old Hurry Up, Mohammed Abdulla Juma secured second position with a zero fault round in 52.43 seconds. Abdulrahman Eisa Al Bukhari with Irschi took the third position, completing the round in 54.33 without any fault.
Back to News Listing