Back to News Listing
Rashid Towaim Al Marri and Ghanim Nasser Al Qadi Deliver Tour 8 Jumping Masterclass
Publication Date:

25/01/22 12:05 PM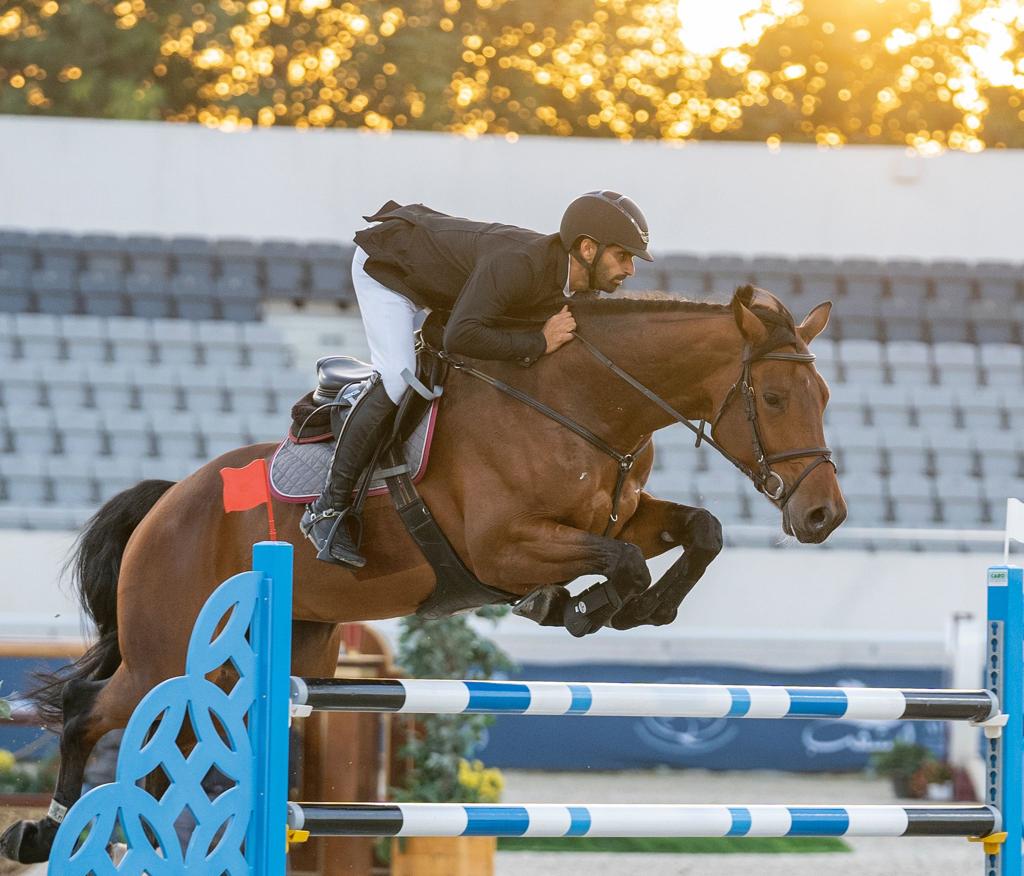 Al Marri enjoyed double delight in the Open Class and Big Tour categories, while Ghanim Nasser Al Qadi's blistering Medium Tour Individual and Team performances saw him enjoy a triumphant Tour, as the two riders dominated their rivals.
The two days of intense competition saw a field of 62 starters kick off the action in the Small Tour category, with Mohammed Abdulla Juma riding Fito R to first place in 42.14 secs.
Hamad Nasser Al Qadi achieved a close second place astride Gibria-B, with a time of 42.68 secs, ahead of Mohammed Jabor Al Naimi, who clocked 44.04 secs on Naville 7.
It was then Ghanim Nasser Al Qadi's turn to grab the spotlight, as the Medium Tour Individual and Team categories rounded off the first day's event schedule. In the individual competition, Al Qadi rode Happy Tina to a jump off victory in 30.02 secs. Hungry for more success, he then went on to add second place to his earlier winning performance, as he rode Jazz De Semilly K Z (Dupli) to a time of 30.29 secs in the jump-off. It was left to Cyrine Cherif to complete the placings on the podium, riding Brennus Villelongue to a jump off time of 31.85 secs.
Al Qadi wasn't done just yet, though. Once again riding Happy Tina, he helped Al Kass win top honors in the Medium Tour Team competition, with ExxonMobil coming in second, and Ahmed Alrayes Group taking third spot.
Another fresh, winter afternoon saw competition on day two start off with a large field of 48 entrants competing in the Open Class. Rashid Towaim Al Marri couldn't have been in better form as he landed his first victory of the day, riding Mira V/D Roshoeve to first place with a winning time of 29.77 secs. It was Sheikh Khalifa Al Thani, astride Serendipity, who claimed second spot in 31.71 secs, while Nasser Al Ghazali rode What A Pleasure to third in 31.82 secs.
Wrapping up the day and overall competition was the showpiece Big Tour. The fiercely contested category saw 16 starters but it was, once again, Rashid Towaim Al Marri who stood firm. Gunning for glory on Navaronne, he won a four-rider jump off in a time of 41.10 secs, earning his second stunning victory of the day. Hamad Nasser Al Qadi won second place on Nebrasco in a time of 46.32 secs, while the final spot on the podium went to Faleh Suwead Al Ajami on Ulano, who finished in 38.56 secs.
The annual Qatar Equestrian Tour, which will take place over 14 legs of competition in Season 5, having been increased from 12, is organized and hosted jointly by QEF and Al Shaqab.
Longines, ExxonMobil, and Salam International are the main partners of the Tour.
Back to News Listing