Back to News Listing
QATAR EQUESTRIAN TOUR – LONGINES HATHAB SUPPORTED BY THE SOCIAL & SPORT CONTRIBUTION FUND PRODUCES THRILLING ACTION
Publication Date:

04/01/21 07:29 AM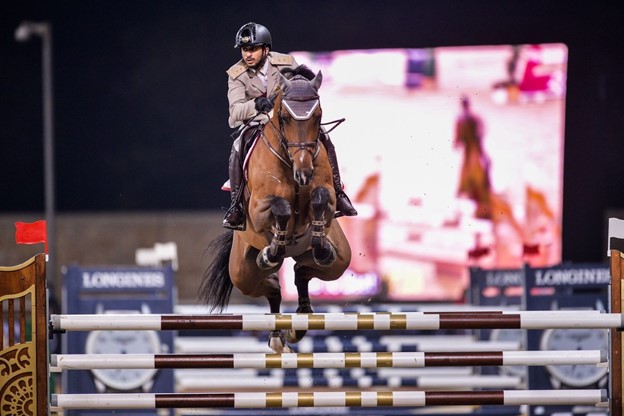 Held on the first day of the new year, the opening event on day one of the two-day program saw riders compete against the clock in the Small Tour Table A 115cm class. Mohammed Nasser Al Qadi , drawing on all his skills and experience, was fastest, taking only 54.07seconds to steer Vlacido to first place. The race for the top spot was tight, as Hamad Nasser Al Qadi clocked 54.91seconds on Gibria-B to secure second place, while Khalid Ali Al Adba rode Cornett Des Forrets to third in a respectable 55.03 seconds.
Omar Al Mannai, Vice-Chairman, Organizing Committee, Longines Hathab, and Ahmed Salem Al Ali, Director, Social and Sports Activities Support Fund Department, presented the Small Tour winners with their prizes.
The Medium Tour Team event saw Team Limited Edition Cars storm to top spot, with winning rounds from Mohammed Khalifa Albaker on Verona and Mohammed Saeed Haidan on Miss Chili. Team Al Kass saw Salmeen Sultan
Al Suwaidi on Aslan 69 and Nasser Al Ghazali on Hurry Up finish in second place, ahead of Exxonmobil's Cyrine Cherif on Brennus Villelongue and Jassim Al Jaham Al Kuwari on Sandro Girl.
In the Medium Tour Individual 115cm category, Faris Saad Al Qahtani produced a brilliant performance to take top honors on Hidiene, in 29.49 seconds. Mohammed Khalifa Albaker finished second on Verona, in 31.05 seconds, with Salmeen Sultan Al Suwaidi steering Aslan 69 to third in 31.34 seconds.
The Medium Tour Team and Individual category winners were awarded by Omar Al Mannai, Vice-Chairman, Organizing Committee, Longines Hathab.
The second and final day's action opened with the category of Future Riders, Under 14, 80cm. Hadi Mansour Al Shahwani, riding Kashmir, turned in an excellent performance to secure first place in 20.68 seconds, with Barzan Azzam Saleh taking both second and third spots on Ilse (22.12 seconds) and Sita (23.44 seconds), respectively.
A true test of skill for those just starting to make their mark on the sport, the category of Future Riders Under 14 and Beginners, 90cm, saw Majed Abdulrahman Al Awadh clinch first place on Latino 291, in 21.32 seconds. Second spot went to Abdulaziz Khalid Al Bukhari, on Gi Molga, in 22.34 seconds, with Kanz Azzam Abdulla Sale finishing third on Ubor, in 23.24 seconds.
The excitement continued with the Open Class Power and Skill over Six Bar category, which saw the combination of Faris Saad al-Qahtani and Hidiene add another first place to go with their victory in the Medium Tour on the opening day. Salman Mohamed Al Emadi rode Zorro Z to second place, with third spot being taken by Rami Younis astride Inzaghi Van Molenheide.
The main event of Tour 7, the Big Tour, Table A Special Two Phases, saw Salmeen Sultan Al Suwaidi skillfully steer Aslan 69 to top spot in 34.53 seconds, with Nasser Al Ghazali finishing second on Quel Homme in 37.56 seconds, and Hamad Nasser Al Qadi taking third on S I E C Lonnie, in 39.66 seconds.
Bader Al Darwish, Organizing Committee Member, Longines Hathab, awarded the Big Tour winners.
For the health and safety of equestrian fans, and in line with national COVID-19 precautionary measures, spectators were not allowed into the arena. Fans were, however, able to follow the action live on Al Kass TV.
Qatar Equestrian Tour – Longines Hathab Supported By The Social & Sport Contribution Fund is organized and hosted jointly by Qatar Equestrian Federation and Al Shaqab, a member of Qatar Foundation. It comprises individual and team competitions over 12 legs, from October 2020 to March 2021.
Longines, ExxonMobil, and Salam International are the main partners of the Qatar Equestrian Tour, which is supported by The Social & Sport Contribution Fund (Daam).
Back to News Listing