Back to News Listing
Mohammed Saeed Haidan enjoyed double delight in exciting start to Qatar Equestrian Tour – Longines Hathab Season 5
Publication Date:

26/10/21 07:29 AM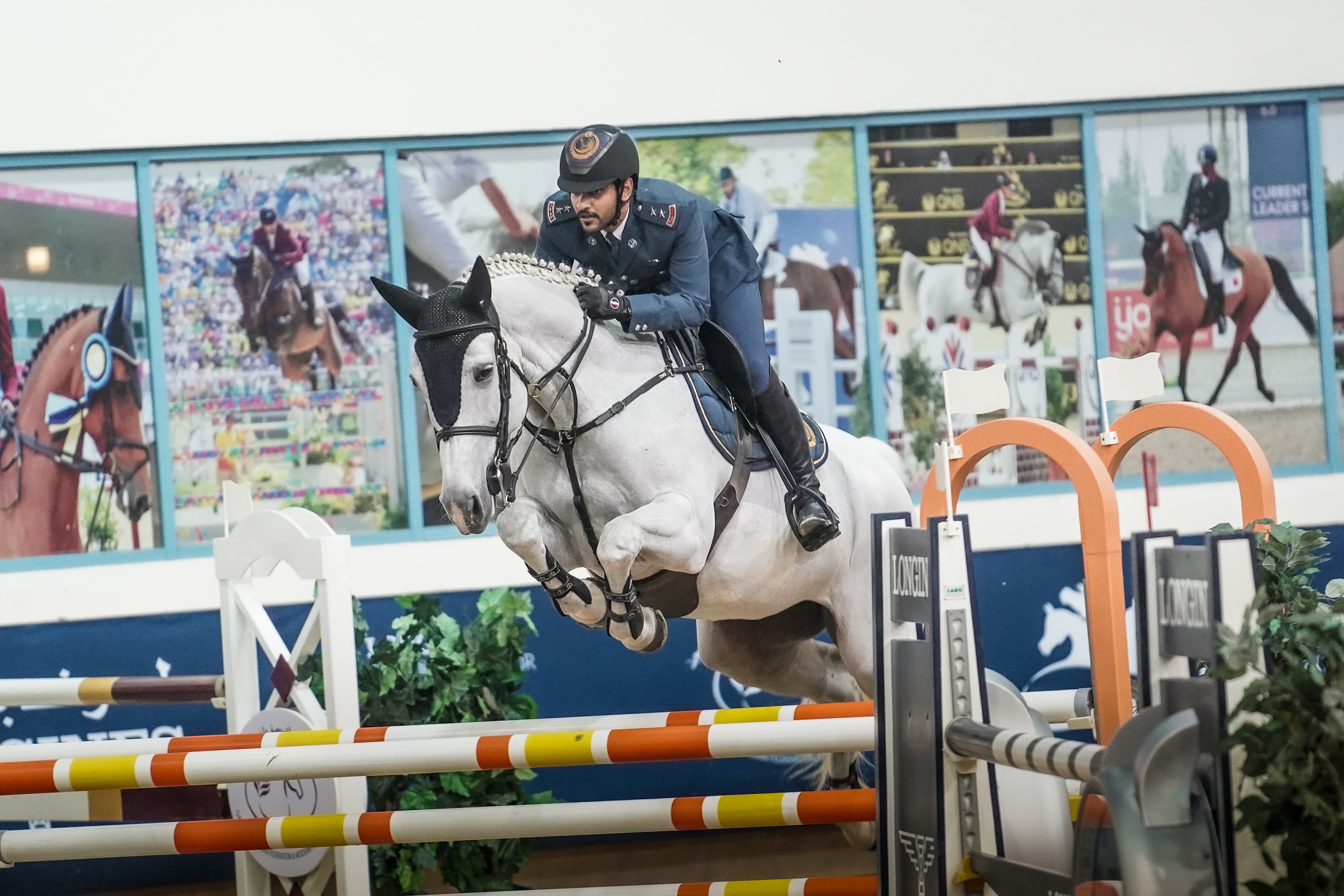 The experienced showjumper's superb performance echoed his exploits in the opening Tour of Season 4, when he triumphed in the Medium Tour, Team event, and Big Tour.
Haidan started the 2021/22 competition in similar fine style at the Qatar Equestrian Federation Indoor Arena, delivering flawless winning rides not once but twice in the Big Tour (130/140cm) category. He rode Miss Chili to first place in 30.52secs, before claiming the runners-up spot as well, on D Saucedo, in 30.77secs. Hamad Nasser Al Qadi sealed third in 33.17secs, astride SIEC Lonnie.
In the Open Class (Table A, one round against the clock 115/120cm) category, Khalid Mohammed Al Emadi emerged victorious, producing a performance of pace and strength on Hermes van de Meersen. The duo registered a winning time of 43.42secs, without any faults. Rashid Towaim Al Marri finished second astride Mira V/D Roshoeve (46.23secs), while Jaber Rashid Al Amri, riding Canavaro De Muze (E.T.), claimed third (46.89secs).
Earlier, in the morning session, the Future Riders classes for under-14 and beginner riders kicked off the day's action. Sheikh Abdulaziz Bin Jassim Al Thani rode Tequila Sunrise to an impressive victory in the Optimum Time (Max 80cm) category (48.07secs).
Jassim Abdullah Shaibani, astride CJ Baba van de Roshoeve, followed up by winning the Optimum Time (Max 90cm) category (61.86secs).
In Day 1 action, Cyrine Cherif's masterful display of showjumping saw her win the Medium Tour category. Riding her trusted stallion, Brennus Villelongue, she produced a winning time of 32.13 seconds with no faults. Jaber Rashid Al Amri, astride Canavaro De Muze (E.T.), finished second with a time of 32.93 secs, while Salmeen Sultan Al Suwaidi rode Guilder's Empire Of The Sun to third in 33.20 secs.
Cherif and Brennus Villelongue later experienced further joy when she helped ExxonMobil win the Team event. Cherif, Saeed Nasser Al Qadi (Electra B), and Rashid Towaim Al Marri (Lamm Addiction Z), took top spot on the winner's podium. Team Al Kass finished second, while Team QAF took third place.
The Small Tour category kicked off Tour 1 proceedings on the first day, with Mohamed Nasser Al Qadi producing a flawless routine on Galwaybay Merbreaker to win first place. Khalid Mohamed Al Emadi, astride Hermes van de Meersen, took second (24.46secs), with Mohamed Jabor Al Naimi on Baina rounding off the podium places (24.63 secs).
The annual Qatar Equestrian Tour, which will now take place over 14 legs of competition, having been increased from 12, is organized and hosted jointly by QEF and Al Shaqab.
Longines, ExxonMobil, and Salam International are the main partners of the Tour.
Tour 2 of Season 5 is scheduled to take place on October 29 and 30 at QEF Indoor Arena.
Back to News Listing