Back to News Listing
Mohamed Saeed Haidan outshines rivals once again in exciting Tour 4 action
Publication Date:

29/11/21 07:29 AM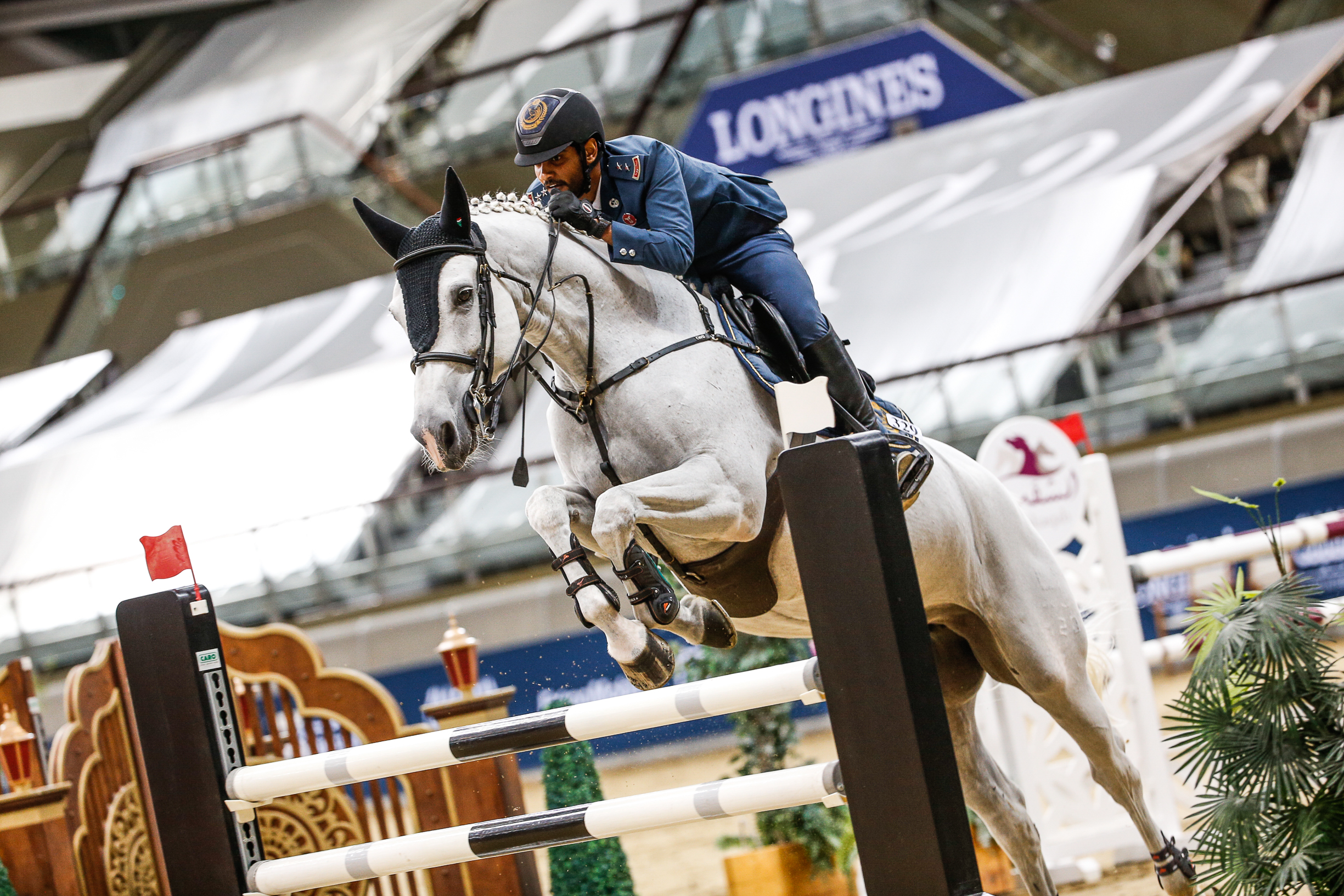 Haidan claimed top honors in both the Medium and Big Tour categories of Tour 4, meaning he has now won three Individual Big Tours and a Medium Tour since the premier local horse-riding series kicked off in October.
ExxonMobil, meanwhile, clinched their third successive triumph in the Team category during the weekend's thrilling action.
On day 1 of Tour 4, which took place at the Longines Arena at Al Shaqab, Haidan rode trusted mare Miss Chili to top spot in the Medium Tour, after a flawless performance in the jump-off. Faris Saad Al Qahtani took second place, while Rashid Towaim Al Marri finished third.
In the Medium Tour Team category, Cyrine Cherif also enjoyed a jump-off triumph, astride Brennus Villengoue, as the French rider and teammates Rashid Towaim Al Marri and Saeed Nasser Al Qadi emerged victorious for ExxonMobil.
In Small Tour action, Mohamed Jabor Al Naimi won on Naville Z, his second triumph of the season in the category. He beat out Hussain Saeed Haidan (second) and Saeed Nasser Al Qadi (third) for first place on the podium.
Day 2 delivered similarly spectacular showjumping for equestrian enthusiasts.
It started with Open Class action, which saw veteran rider Saeed Nasser Al Qadi follow his success in the Team category with another winning performance, taking first place on Best of De Forets. His Exxonmobil teammate, Rashid Towaim Al Marri, finished second, with Jaber Rashid Al Amri third.
In the showpiece event of the day - the Big Tour – the plaudits went to the in-form Mohamed Saeed Haidan. He showed his rivals a clean pair of heels once again, riding D Saucedo to a commanding victory. Cyrine Cherif finished second, while Faleh Suwead Al Ajami ended third.
The annual Qatar Equestrian Tour, which will now take place over 14 legs of competition, having been increased from 12, is organized and hosted jointly by Qatar Equestrian Federation and Al Shaqab.
Longines, ExxonMobil, and Salam International are the main partners of the Tour.
Back to News Listing