Back to News Listing
13-year-old Haya Khalid Al Hitmi and in-form Mohammed Saeed Haidan steal the show in Tour 2 action
Publication Date:

02/11/21 01:35 PM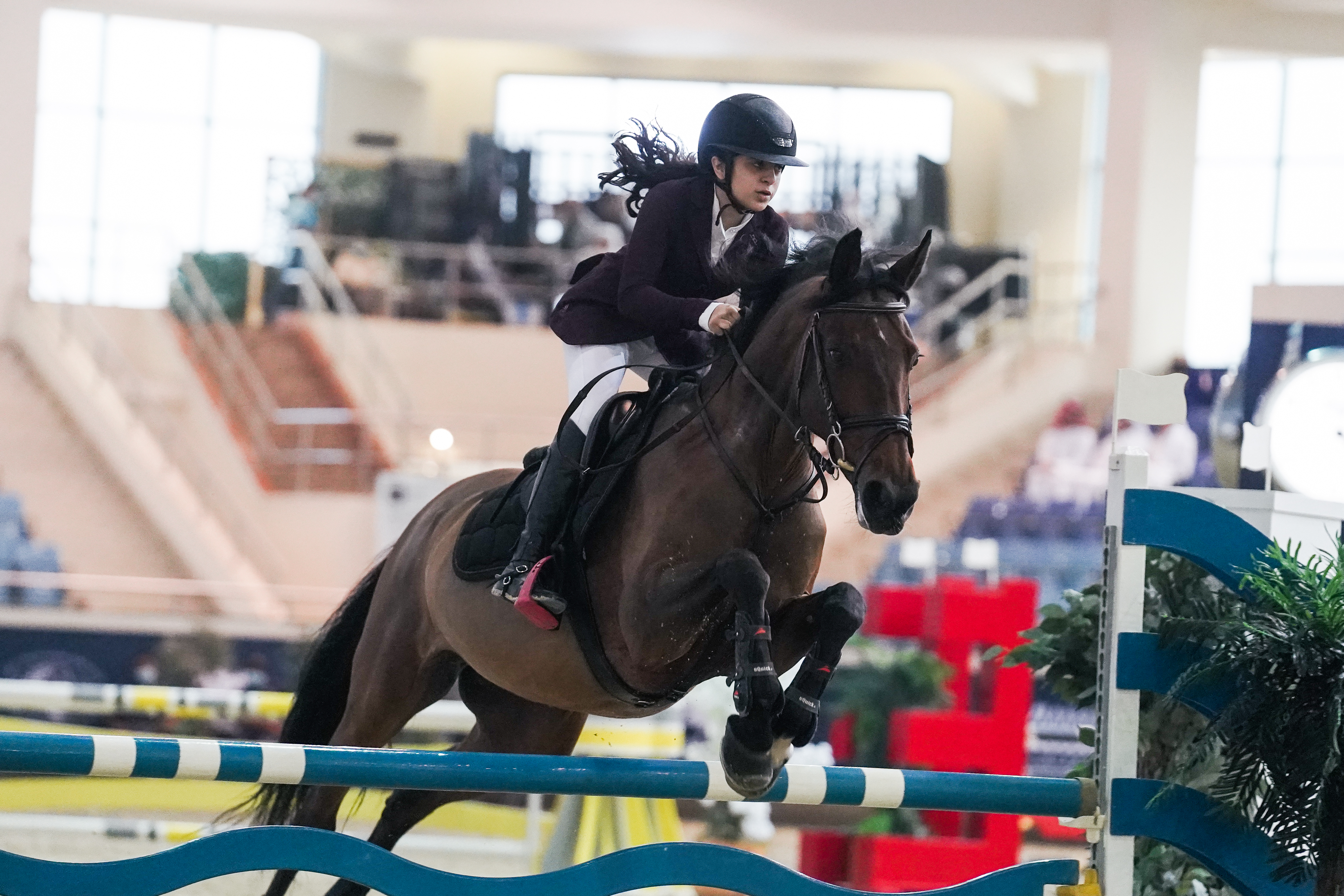 Taking part in the first day's action, Al Hitmi delivered a flawless performance in the Small Tour, claiming victory astride Dusty. Making Al Hitmi's triumph all the more remarkable is that this represents the first season she is competing in the Small Tour, having previously taken part in the Future Riders Category. Her win over her more experienced rival riders caused the excited crowd to erupt in applause, while Al Hitmi herself could barely contain her joy.
Joining Al Hitmi on the podium was Mohammed Jabor, who claimed second and third place with Naville Z and Baina respectively.
In the Medium Tour Individual category, Mohammed Saeed Haidan emerged triumphant with D Saucedo, continuing his winning form in Tour 1, and setting the stage for further triumph on the second day. Rashid Towaim Al Marri finished second astride Mira V/D Roshoeve, while defending Medium Tour champion Cyrine Cherif took third on Villelongue.
In the Medium Tour Team category, Cherif and Al Marri combined along with Saeed Nasser Al Qadi to clinch victory for ExxonMobil, beating QAF (second) and Salam International (third) to the top spot on the podium.
In Day 2 action, the Open Class competition kicked off proceedings, with Hussain Saeed Haidan powering to victory astride Viahipi D'auzay. Salmeen Sultan Al Suwaidi finished second on Guilder's Empire Of The Sun, with Saeed Nasser Al Qadi claiming third on Best Of Des Forets, to go with his success in the Team competition.
In the showpiece event of the day – the Big Tour category - Mohammed Saeed Haidan rode to an outstanding victory in an extremely experienced and competitive class.
Haidan, who won the first two places on the podium in the Tour 1 Big Tour, continued his red-hot form astride Miss Chili in Tour 2, winning top honors.
Hamad Nasser Al Qadi, a former Big Tour champion, came second on Gibria-B, while defending Big Tour champion Nasser Al Ghazali, astride Quel Homme, took third.
The annual Qatar Equestrian Tour, which will now take place over 14 legs of competition, having been increased from 12, is organized and hosted jointly by QEF and Al Shaqab.
Longines, ExxonMobil, and Salam International are the main partners of the Tour.
Back to News Listing